Skip to Content
ZIPS Car Wash Orlando Hosts Customer Appreciation Days
ZIPS Car Wash offers $5 Premier Washes and Free Giveaways Aug 23-27 at all Orlando Locations
August 23 | 2023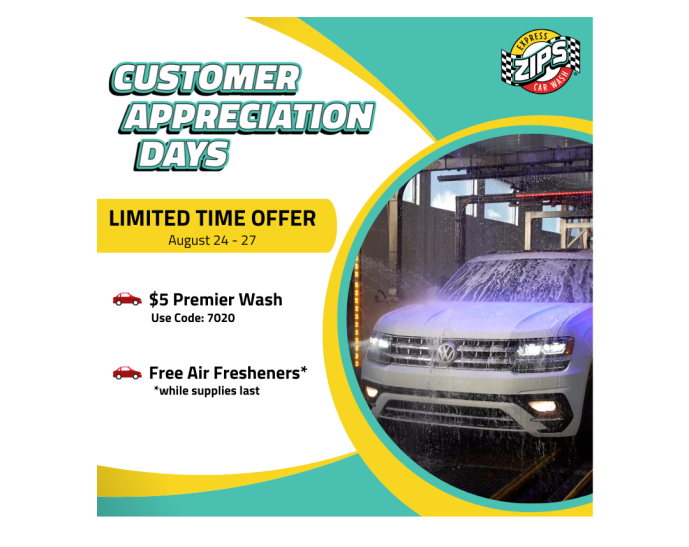 Orlando, FL – (August 23, 2023) – ZIPS Car Wash recently upgraded and fully transitioned its six Orlando area locations to the ZIPS brand and is celebrating its new services, including its newest graphene product, Ultra HD Glaze, available in the new ZIPS Premier Wash package. Customers can enjoy a $5 Premier Wash (a $25 savings) with Wash Code 7020 from August 23 – 27, 2023, during ZIPS Customer Appreciation Days at any Orlando area location, plus free air fresheners while supplies last.
"Our Premier Wash offers our highest level of cleaning and vehicle protection, featuring Ultra HD Glaze and Graphene-Ceramic Fusion X. This package includes everything you need to keep your vehicle looking great and protected between car washes," said Mark Youngworth, Chief Operating Officer, ZIPS Car Wash. "We're proud to provide this product and other new services to our loyal customers in Orlando and hope that customers will come try it this week to see the difference for themselves," he added.
ZIPS Premier Wash is a brand-new service available at all six Orlando area locations and offers layer after layer of exceptional exterior protection for your vehicle. This package is calibrated to clean off dirt and grime, seal your vehicle's clearcoat, protect surfaces from color-fading UV rays, prevent contaminants from sticking, and give your vehicle and tires incredible shine and includes the following products:
Triple Foam Conditioner
Z Hot Wax
Tire Shine and Wheel Cleaner
Graphene-Ceramic Fusion X
Ultra HD Glaze
Plus, complimentary self-serve detailing amenities (free vacs, towels, surface cleaner)
ZIPS Car Wash Customer Appreciation Days are also centered around celebrating its team members for their efforts to help enhance the services at all six area locations. ZIPS Car Wash locations are open from 8am to 8pm daily. Find a location near you at zipscarwash.com.
About ZIPS Car Wash ZIPS Car Wash, headquartered in Plano, Texas, is the largest privately held car wash operator nationwide, operating more than 280 locations across 25 states under three brands: ZIPS Car Wash, Rocket Express Car Wash, and Jet Brite Car Wash. With nearly 20 years of car washing experience, ZIPS prides itself on providing the highest quality express tunnel car wash in the industry. ZIPS uses the latest industry technology to provide a clean, dry, and shiny vehicle and exceptional customer experiences every day. The ZIPS team aims to positively impact the communities we live and serve in. To learn more visit www.zipscarwash.com.