Skip to Content
ZIPS Car Wash Releases Car Wash Convos™ Featuring Tar Heel Fan Favorite Alyssa Ustby
January 19 | 2023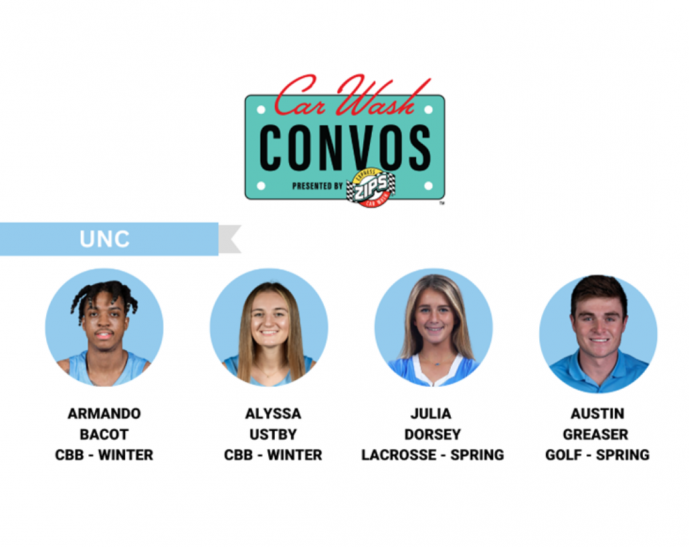 Plano, TX – (January 19, 2023)— Alyssa Ustby, a guard/forward on the University of North Carolina women's basketball team, is now featured in ZIPS Car Wash's take on NIL, Car Wash Convos™. The brand's latest episode in its unique approach to name, image and likeness (NIL), Car Wash Convos™, features Ustby and fellow student Kaitlyn Schmidt, who is a member of the UNC dance team, Carolina Girls. Both students are working toward majors in the UNC Hussman School of Journalism & Media, and Ustby is also working toward a minor in Business Administration. ZIPS Car Wash is the Proud Partner of Carolina Athletics® and five additional LEARFIELD properties representing the largest sponsorship of its kind in the car wash industry. Join us in cheering on Alyssa tonight when the Tar Heels face Duke at 8pm ET.
"I'm grateful for the opportunity to partner with ZIPS Car Wash to bring Car Wash Convos™ to Tar Heel Nation! I love that this series gives UNC fans a glimpse into my personality off the court," said Alyssa Ustby, UNC Women's Basketball Guard.
In the 2021-2022 season as a sophomore, Alyssa started all 32 games, was named to the All-ACC second team and the All-ACC Academic Team for the second year in a row. She made the Pre-season Cheryl Miller Award Watch List for the Nation's top small forward and averaged 12.9 points and 8.6 rebounds per game. Alyssa's recent success with multiple game double-doubles has helped lead the way toward their early success in the season.
"Alyssa has continued to shine on and off the court during her college career and her drive for excellence is one of the many reasons we've chosen to feature her in our campaign," said Mark Youngworth, Chief Marketing Officer, ZIPS Car Wash. "Our student-athlete selection process was rigorous and the goal of our campaign has been to partner with like-minded student-athletes who share the same drive for excellence that we strive for every day at ZIPS. Alyssa embodies the motivation, enthusiasm and commitment we were looking for in our student-athlete partners and we're proud to have her represent our brand," he added.
ZIPS' NIL activation in the first year of the three-year agreement will feature four student-athletes from the University of North Carolina, including men's basketball center Armando Bacot, Soccer and Lacrosse's Julia Dorsey and Austin Greaser from the Tar Heel Golf Team. Car Wash Convos™ gives fans a glimpse into the lives of these student-athletes during a ride through ZIPS Car Wash in their university town. In the videos, student-athletes are interviewed on their on and off-the-court lives by other student athletes representing the university, all while experiencing a car wash.
Along with the launch of Alyssa's video, Raleigh area ZIPS customers can enjoy a $5 Wash & Dry Car Wash from now until January 31, 2023, with Alyssa's Wash Code 1111. ZIPS owns and operates 8 locations in Raleigh, over 30 locations in North Carolina and over 275 locations in 24 states. To find a location near you, visit zipscarwash.com.
About ZIPS Car Wash
ZIPS Car Wash, headquartered in Plano, Texas, is the largest privately held car wash operator nationwide. ZIPS is among the fastest growing express car wash chains in the country, operating more than 275 locations across 24 states. With over 18 years of car washing experience, ZIPS has invested in industry leading technology, creative hiring and training methods, local partnerships, and a laser-focus on customer care as driving forces behind ZIPS growing business model. Our #1 purpose is to make people happy, from our community outreach efforts and fundraising programs to our focus on employees. ZIPS strives for a great, clean, and fun customer experience. To learn more visit: zipscarwash.com.
ABOUT LEARFIELD
LEARFIELD, based in Plano, Texas, is a media, data, and technology services leader in intercollegiate athletics. The company unlocks the value of college sports for brands and fans through an omnichannel platform with innovative content and commerce solutions. LEARFIELD services include licensing and collegiate sports properties' multimedia sponsorship management; publishing, audio, digital and social media; data analytics and insights; ticketing software and ticket sales; branding; campus-wide business and sponsorship development; and venue technology systems. Since 2008, it has served as title sponsor for NACDA's acclaimed LEARFIELD Directors' Cup, recognizing athletic departments across all divisions.