Skip to Content
University of North Carolina® Tar Heel Forward Armando Bacot Shines Light on his Off the Court Life in ZIPS' Car Wash Convos™
February 16 | 2023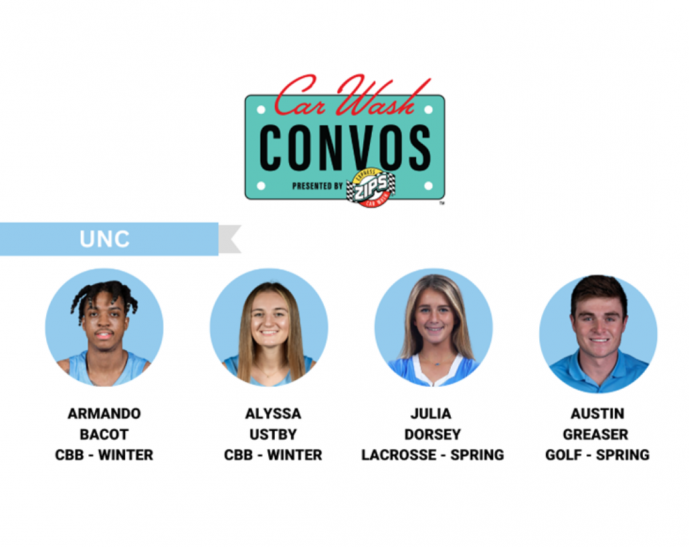 Raleigh, NC – (February 16, 2023) — ZIPS Car Wash (zipscarwash.com) released today its video interview-based approach to NIL, Car Wash Convos™, featuring Armando Bacot, University of North Carolina® Tar Heel Men's Basketball center/power forward. Armando's episode gives fans a glimpse into his life off the court as he's interviewed during a ride through ZIPS Car Wash. Armando is a UNC senior currently majoring in exercise and sport science, with a focus in sports administration and a minor in business. His host, Kaitlyn Schmidt, is a member of the UNC dance team, Carolina Girls, and working toward a major in the UNC Hussman School of Journalism & Media. Join ZIPS in cheering on the Tar Heels in their upcoming matchup against in-state ACC opponent NC State this Sunday, February 19th at 12pm.
"Partnering with ZIPS Car Wash has been an incredible opportunity—excited for Tar Heel Nation to get to know more about my off-court persona in my episode of Car Wash Convos," said Armando Bacot.
Tar Heel fans win when ZIPS and Armando team up for a dirt defense with Armando's winning wash code 5555, which unlocks a $5 Wash & Dry car wash now through Thursday, March 2nd at all of ZIPS' 30+ North Carolina locations.
"Armando's drive for excellence and determination to succeed in his athletic career are undeniable, and ZIPS selected student-athletes like him to represent our brand because we feel his goals line up with our daily drive to improve and succeed," said Mark Youngworth, Chief Marketing Officer, ZIPS Car Wash. "We're proud to have Armando represent ZIPS and can't wait for fans to watch his Car Wash Convos™ as the video truly portrays his personality in a unique way," he added.
Armando just became UNC's all-time leading rebounder when he broke the record in the Jan. 21st Tar Heel matchup against NC State. Armando got his 17th rebound of the game and No. 1,220th of his UNC career, surpassing Tyler Hansbrough for the school rebounding record. He excels off the court as well and was named one of just three men's basketball players in 2021-22 to the Academic All-ACC team and first-team all-conference.
Additional student-athletes representing University of North Carolina in Car Wash Convos™ yet to be released this season include Julia Dorsey (soccer, lacrosse) and Austin Greaser (golf). Alyssa Ustby's video launched last month, and she was the first female student-athlete to be highlighted in the series. Due to ZIPS' national relationship with LEARFIELD, the company's LEARFIELD Studios team is ZIPS' Car Wash Convos™ video production partner.
About ZIPS Car Wash
ZIPS Car Wash, headquartered in Plano, Texas, is the largest privately held car wash operator nationwide, operating more than 275 locations across 24 states under three brands: ZIPS Car Wash, Rocket Express Car Wash, and Jet Brite Car Wash. With nearly 20 years of car washing experience, ZIPS prides itself on providing the highest quality express tunnel car wash in the industry. ZIPS uses the latest industry technology to provide a clean, dry, and shiny vehicle and exceptional customer experiences every day. The ZIPS team aims to positively impact the communities we live and serve in. To learn more visit www.zipscarwash.com.
About LEARFIELD
LEARFIELD, based in Plano, Texas, is a media, data, and technology services leader in intercollegiate athletics. The company unlocks the value of college sports for brands and fans through an omnichannel platform with innovative content and commerce solutions. LEARFIELD services include licensing and collegiate sports properties' multimedia sponsorship management; publishing, audio, digital and social media; data analytics and insights; ticketing software and ticket sales; branding; campus-wide business and sponsorship development. Since 2008, it has served as title sponsor for NACDA's acclaimed LEARFIELD Directors' Cup, recognizing athletic departments across all divisions.