Skip to Content
Lady Vols Star Pitcher Karlyn Pickens is Featured in ZIPS' latest Car Wash Convos™
April 06 | 2023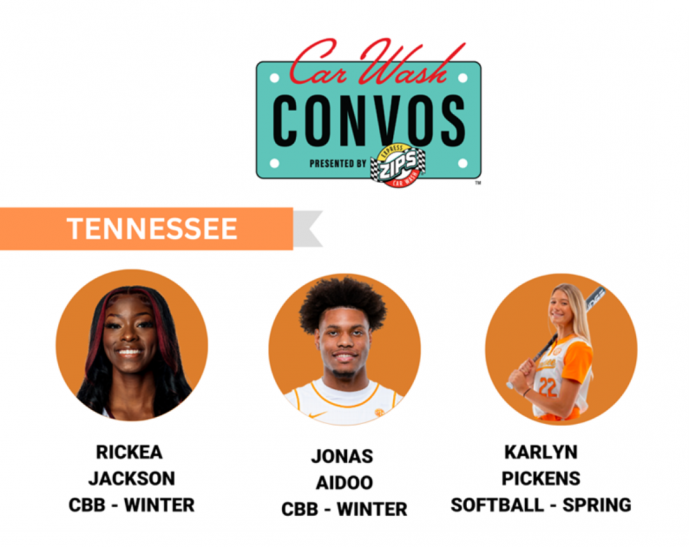 Plano, TX – (April 6, 2023)— ZIPS Car Wash (zipscarwash.com) revealed its Car Wash Convos™ episode featuring true freshman Tennessee Lady Vols® Softball Pitcher, Karlyn Pickens, today on YouTube. Karlyn is now 3-time SEC Freshman of the Week, SEC Player of the Week and has earned a place in the Tennessee record books as she pitched her first perfect game against Appalachian State last month.
To celebrate Karlyn's early success this season and the launch of her Car Wash Convos™ episode, ZIPS video-based approach to name, image and likeness (NIL), Knoxville ZIPS customers can enjoy a $5 Wash & Dry car wash with Karlyn's winning wash code 2323 at any Knoxville ZIPS Car Wash today through April 19, 2023. To find a location near you, visit zipscarwash.com.
"Partnering with ZIPS Car Wash has been an incredible opportunity—excited for Vol Nation to get to see more of my personality off the field in this episode of Car Wash Convos," said Karlyn Pickens.
In her episode, Karlyn is interviewed during a car wash at ZIPS in Knoxville by fellow student-athlete Kenzie Couch who is a senior on the UT Cheer Team pursuing a degree in Public Relations. Watch Karlyn's episode now for a glimpse into her take on game day rituals, team spirit and her first purchase if she won the lottery. Car Wash Convos™ was created in partnership and produced by Learfield Studios.
"We are excited to work with such an inspiring student-athlete who has immense potential for an exciting athletic career at Tennessee," said Mark Youngworth, Chief Marketing Officer, ZIPS Car Wash. "Karlyn embodies the leadership skills that we see in so many of our younger team members and just like we are excited to develop these new, young leaders at ZIPS, we can't wait to see how Karlyn progresses as an individual and as a leader on and off the field," he added.
ZIPS Car Wash is the Proud Sponsor of the Tennessee Volunteers and owns and operates 20 locations across Knoxville, over 30 locations in Tennessee and over 275 locations across the country.
About ZIPS Car Wash
ZIPS Car Wash, headquartered in Plano, Texas, is the largest privately held car wash operator nationwide, operating more than 275 locations across 24 states under three brands: ZIPS Car Wash, Rocket Express Car Wash, and Jet Brite Car Wash. With nearly 20 years of car washing experience, ZIPS prides itself on providing the highest quality express tunnel car wash in the industry. ZIPS uses the latest industry technology to provide a clean, dry, and shiny vehicle and exceptional customer experiences every day. The ZIPS team aims to positively impact the communities we live and serve in. To learn more visit www.zipscarwash.com.
About LEARFIELD
LEARFIELD, based in Plano, Texas, is a media, data, and technology services leader in intercollegiate athletics. The company unlocks the value of college sports for brands and fans through an omnichannel platform with innovative content and commerce solutions. LEARFIELD services include licensing and collegiate sports properties' multimedia sponsorship management; publishing, audio, digital and social media; data analytics and insights; ticketing software and ticket sales; branding; campus-wide business and sponsorship development. Since 2008, it has served as title sponsor for NACDA's acclaimed LEARFIELD Directors' Cup, recognizing athletic departments across all divisions.